Second year in one of the life experiences that have most impacted me in the last two years in a row, Afrika Burn. I write this from Tanzania; I needed some time to sit down and write about what I felt…
The first year in Afrika Burn was a more shared type of experience. An experience about the values of friendship and team, shared with best friends and people we knew who we connected even more with (you can see the micro-documentary here). It was like an entire assembly with people you love.
The second year has been very personal and intimate, but at the same time more open and connected with people and context. The group of friends has been smaller, much more, although I have met more people (fantastic) with whom I have connected and did not know, than last year. Mainly I talked to everyone in the Camp (Ubuhlanti, and everyone, I repeat, everyone was a fantastic human being on its own), everyone adds some magic to the whole thing. Personally, I have experienced one of the most intense transformational and spiritual life experiences of my life; I could even say one of the most. This year has been much more intense than last year. Different, without comparisons. This year is the result of the past.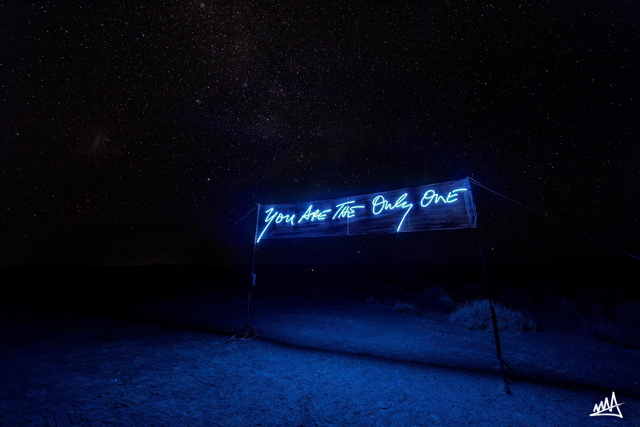 Afrika Burn, Burning Man and similar life experiences
This year I hardly thought of this as a festival or a party, and more as what it is, a transformative life experience where I was going to disconnect at all levels. Afrika Burn is a place where you can not work or search, but find. I decided to flow, let myself go, detach, isolate myself and surrender to limits beyond those explored. I can say that I have achieved it.
First because of the camp I belong to and the tribe of agents of change that coincided this year. For being able to meet and connect with such incredible people such as Eric Grotefeld, whom I have learned a lot in very little time. There have been people like Javi, and then other people like Kendall, Rebecca, Elina, José, Doug, Juan, Juliet or FOSTA, Chema, and others, with whom I had conversations and magical moments with.
Second, for the wisdom of the desert and nature, and for knowing how to see it, appreciate it and integrate with it. I spent 11 hours alone in the desert, from 4:00 p.m. until 2:00 p.m. I walked about 38 kilometers, then I lay awake- I do not know for how long. What happened in those 11 hours has been the fascinating thing I've ever experienced on a personal level. It was an adventure with myself, a conversation thinking high with myself during all that time.
I relived my whole life, most of these 35 years, the best times and the not so good ones, and the normal ones. And I could not find a single regret, not a single "but," nothing that would erase. Everything is as it should be. I embraced (literally) myself for 11 hours. I accepted whatever I had to endure, even if I never came back from that desert. Go figure.
Third for breaking routines, to eliminate any obligation or responsibility. Forgiving myself to do nothing and with it be more awake to what may come.
Fourth, because of my predisposition to do so and because of the predisposed context of a place like Afrika Burn. The essential experiences already mark you only by their nature.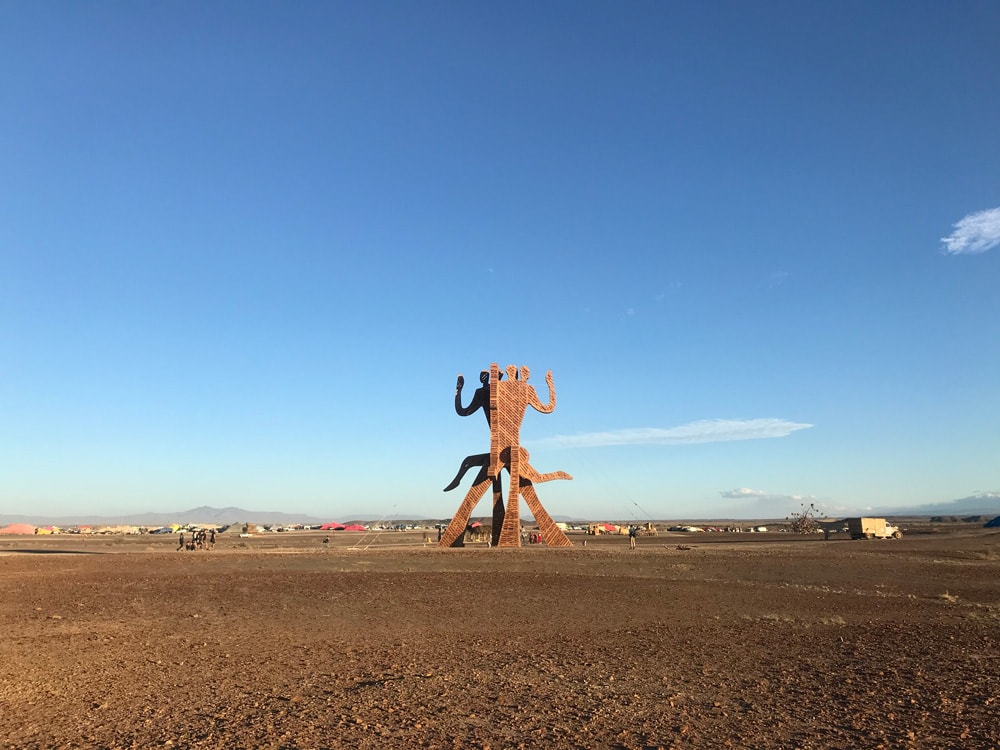 Absolute surrender
I gave up, finally. For that, I had to take my ego to a place where I was entirely out of the game. Where you couldn't react. I came to a place where understanding or reasoning didn't happen. Where my unbreakable self-discipline was paralyzed. A place, moment, space, time where I was connected with my whole being, feeling, breathing and ultra-conscious, not from my mind, but from the sensations. I felt every part of my body as an extraordinary event. My mind disconnected for hours, something I hadn't even achieved with Vipassana or Ayahuasca.
The best of all (for me), I was there alone, lying in the middle of nowhere in a desert, wrapped in a blanket. Without ceremony or rituals, without a book of instructions, without a shaman.
The rest I keep to myself. I have learned that this type of transformative life experiences can not, nor should, nor need to be told or explained. Mainly because there are things that have to be saved for our soul and only for our soul.
Extreme vulnerability
I don't remember having a moment of explosion and opening up to someone, as I did with Valentino on Saturday, February 28th. It was about 4:00, we were in the desert, looking at the moon, we left the stage where Javi was playing, I do not remember what Valen said. It was a moment where everything that had content for so many years came out. I cried like a child embracing him saying "what we had to achieve, we have already achieved it." Vulnerable, real and the most comfortable that I have felt in years.
What I have learned before, during and after
Something I can say that I have learned in Afrika Burn:
When you commit to something, you can't do it half-hearted.
Valentino is the person with whom, to this day, I am most in tune with.
LSD opens you up to people. And the Psilocybin helps to open to yourself.
I live in my bubble, with the good and the not so good.
I am my best friend.
Sure I can have a conversation with myself for hours as if it were my best friend.
The body has memory, and if you go through many experiences, it makes you respond, resist and react with more baggage.
The only way to explore the right margins is "losing your mind," and that means that you have to go beyond our understanding and control.
Whatever it is, I am ready, I surrender, I do not oppose any more useless resistance.
My life is perfect for me, whatever it may be and whatever happens, it is beautiful and perfect.
Respect my personality and my authenticity above all else.
Hit me (emotionally) less.
To open up like never before.
To see more and better.
Be more tolerant of me.
What have I been aware of?
Besides having learned some things like the ones above, I noticed some other things:
There is no better friend than ourselves.
We are our shaman; we are our book.
You need to give before receiving.
I already have everything I had come to look for; now it's just by chance.
I have to accept what I do not like to accept.
The meditation (with and without sound), psychedelic (natural) and music in a desert, are the best possible combinations to live a transformative life experience.
When I don't know something, I have to ask for it. When it escapes me, ask for help.
It's all done; you have to enjoy more.
Tomorrow does not matter. It matters today. Better now, better than finding the way.
We have no limits if we work for it. It is more important not to say than to say.
Unconditional support moves mountains.
You have to undress more often.
Nature is our original form; we must return to it more often.
We are the sum of what we live and experience.
It is not optimizing the day or the person, but to get the best possible version of a person.
It is not necessary to have a purpose, a mission, a way, maybe it is a purpose or objective, it does not have it.
What have I achieved in Afrika Burn
After what I have learned and what I have been aware of, this is what I have accomplished by squeezing the most out of this road experience that Afrika Burn is:
Complete the fundraiser challenge.
Collect 100% of what was expected in the challenge.
Trust a team you did not know.
Share my most profound vulnerability with someone.
Walk hugging myself for a long time.
Talk to myself as if I were my best friend.
Do not think of anyone or miss anyone.
Sleep in the desert. Surrender to the experience altogether.
Open to Gong Meditation.
Tell me what you had to tell me.
Show my true comic side.
Disconnect from the world for eight days.
Do what I have to do, like it or not.
Vital experiences take you out of your normal state
To take you to a new place.
The things that intimidate us are the things that make us grow.
The things we reject are the things we need to learn the most.
And the things that we do not understand are the things we need to learn and keep growing.
Everything that is contrary is the same in spirit.
Who was going to tell me that in a "festival" such as Afrika Burn, you could extract so much?
Go for more life experiences. Rock on.