"There is not a single gene that causes cancer" – Dr Bruce Lipton
Isra writes and edits, and the IG team publishes – This is one of the interviews I enjoyed the most and with the most significant impact, perhaps because of the current moment I am living. It is beautiful to discover world disruptors like Dr Bruce Lipton and see how at 77 years old, he retains the mentality and attitude of a child but with everything that someone like him has lived through. Here Bruce shows us how the power of a positive mind can transform absolutely everything and, as he says, return us to the paradise in which we live every day.
Who is Dr Bruce Lipton?
"The subconscious has programs; some are favourable, and some are not. These programs have not been installed by you but by others"
Bruce H. Lipton is a PhD in cell biologist. He is a lecturer and an internationally recognized leader in bridging science and spirit. Bruce was on the University of Wisconsin Medical School faculty and later conducted groundbreaking stem cell research at Stanford Medical School. His pioneering research on cloned human stem cells heralded today's revolutionary new field of epigenetics.
He is an author of the best-selling books: The Biology of Belief and The Honeymoon Effect (translated into Spanish). He is the co-author, with Steve Bhaerman, of Spontaneous Evolution. Bruce received the prestigious Goi Peace Prize (Japan) for his scientific contribution to world harmony.
"Our thoughts create our life" – Dr Bruce Lipton
Interview with Dr Bruce Lipton
"You're living the life of your first seven years of programming"
Dr Bruce Lipton addresses in this interview why our behaviour is destroying the world, why we act the way we do, where it started in our childhood, and how we can fix the root of our unhappiness, sadness, and lack.
In this episode, you'll also find the tools and techniques to change the program in your subconscious mind for yourself.
"We control only 5% of our lives"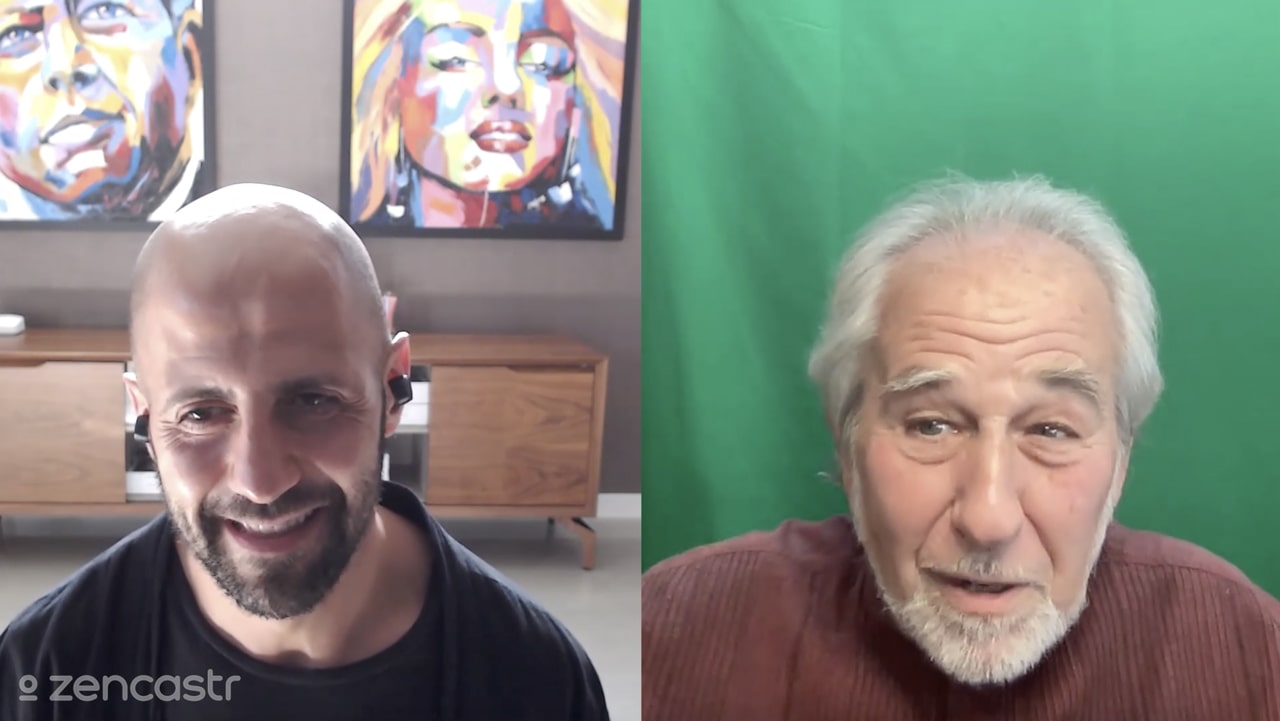 "When you get into the skin of a character, you become him" – Dr Burce Lipton
Disrupt Everything Podcast: Dr Bruce Lipton on the Infinite Power of Positive Thinking
"Change the belief: I love myself"
Isra García interviews Dr Bruce Lipton on how to change programs of scarcity, insufficiency, and unworthiness for programs of abundance, self-love, prosperity, and gratitude. It's a conversation about finding joy in our world and the experience we're going through. An excellent discussion about how to eliminate false limiting beliefs and old, useless patterns and add prosperity, appreciation and abundance to what we already have and are.
"Energy is life – where are you using it?"
Listen the episode here:
Video interview – how to change your beliefs
From now on, you will also find the video interview on the YouTube channel with subtitles:
So enjoy it as we have enjoyed it.
"Today is another day to have heaven on earth"
Interview main topics:
How to create a garden of peace when we are mentally broken
Changing our behaviours is the way to solve the extinction
Preparing for this world to collapse
How to change subconscious programming
How to identify the program that is playing
Ways to reprogram the mind
Shocking moments in the life of Dr Bruce Lipton
Bruce's own limiting beliefs
Self-hypnosis tricks
Lipton's daily routine
Rapid-fire questions
Podcast show-notes
Links and resources featured in the episode:
"The world has to collapse. The world has to fall apart; breaking the structure is necessary to build a new system" – Dr bruce Lipton
---
Listen, download, subscribe
Listen and subscribe to the podcast via iTunes, Spotify, Google Play, Ivoox, Castbox FM, Player FM or RSS. You can even access the video channel and view the web series. Also, you can listen to the podcast here.





You can also listen directly from the Disrupt Everything podcast series homepage.