"When we live, it passes quickly, and there is no pain" – Sweet Medicine Nation.
Months ago, when looking for information about the Vision Quest ritual, I came across Sweetie as she likes to be called. A magical, eclectic, wise, funny, kind and very human medicine woman and awake.
So I contacted her to guide me on that significant journey that is the Vision Quest. However, Oregon forest conditions were unfavourable, and due to fires and droughts, the government had banned these and other types of expeditions. Despite that, we kept talking about her; as I investigated and got to know her, my interest reached the point of considering her as a great guest on the Disrupt Everything podcast.
"We need to experience grief to be truly alive."
Fortunately, she agreed to participate and here we have the full interview. So, again, a different way of raising human potential, but equally valid that is wealth.
Who is Sweet Medicine Nation
"I trust my soul, not my humanity."
Sweet Medicine Nation is a guardian and teacher of wisdom with 45 years of traditional ceremonial experience and native teachings.
Sweetie is a talented artist, educator, speaker, and ancestral medicine teacher/guide. With her eloquence, wisdom and gifts, she has dedicated her life to offering opportunities for people to experience a conscious and deep connection to nature and spirit through indigenous education and ceremonies.
"You become a wise old man when you stop forcing things and join the flow of life." – Sweet Medicine Nation.
With her gouge of wisdom, she offers powerful and valuable tools for our contemporary life. These tools and the ceremonies accompany them to review, reuse, and reclaim our lives in this New Age of the Divine Feminine.
For more than 35 years, she has helped thousands of people through Initiation Rites ceremonies on five continents, Reviving the Holy on Mother Earth, our birth rite.
"When we slow down, we go at the speed of light."
Sweet Medicine has been involved for more than 20 years in numerous local and international organisations and agencies that protect endangered species, water problems, and education worldwide.
Her passion for both edible and medicinal plants continues her love for communion with nature and these healers/finders of our Mother. She applies her expertise in Natural Medicine, Midwifery and Herbs, and her written articles and books based on native medicinal and edible plants, which complements her heritage and love for sharing natural knowledge.
"You are going to serve the earth" – Sweet Medicine Nation.
She enjoys and enlightens you with the interview and her teachings as much as a server did.
Sweet Medicine Nation – Disrupt Everything podcast
"We are conduits of light."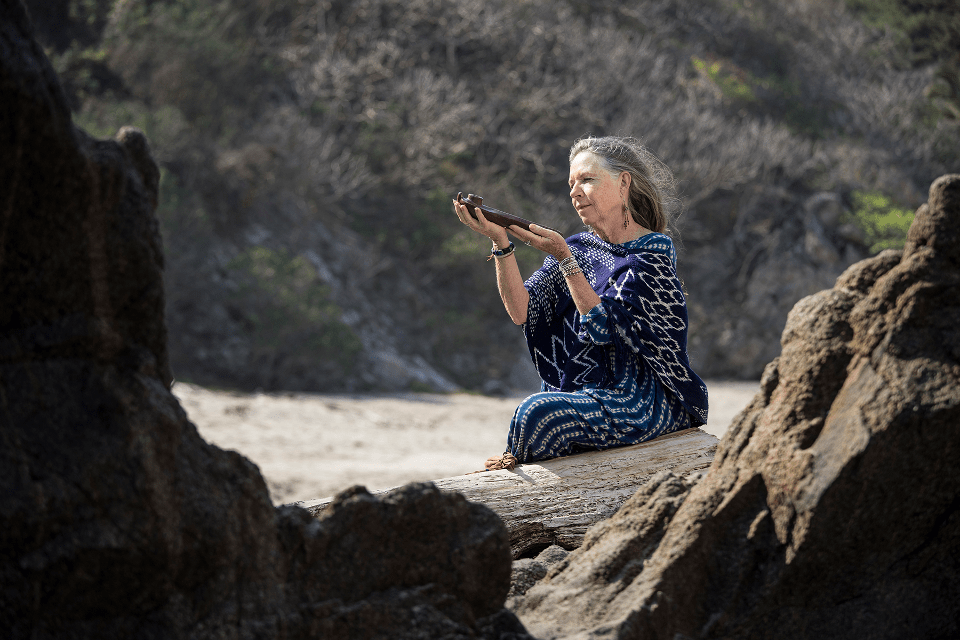 Interview with Sweet Medicine Nation guardian of ancestral and native wisdom and teacher of ceremonies, rites of passage and initiation. In the episode, we delve into the traditional traditions of rituals, indigenous knowledge, ancestral cultures and medicines, shamanism, native teachings, healing, human evolution, the search for vision and spiritual initiations, the divine feminine and awakening of consciousness.
A conversation about ritualism, saving and sharing ancestral wisdom, connecting with nature, the power of initiations and the importance of rites of passage, and awakening human potential from a different perspective.
"I have learned a lot being alone with the animals."
Listen here:
Index of contents
What it is to be a leader and a woman.
The most outstanding milestones.
How can we reinvent the world?
We are evolving as whole human beings.
The awakening.
The initiation and rites.
Kikaya – to remember.
Last message.
Podcast show-notes
Here are the links and resources discussed in the podcast and some others of interest:
Sweet Medicine Nation website.
Email: swtmedicine (arroba) gmail (punto) com.
"Be still, stabilise and ground yourself with nature, observe, remain silent" – Sweet Medicine Nation.
---
Listen, download, subscribe
Listen and subscribe to the podcast via iTunes, Spotify, Google Play, Ivoox, Castbox FM, Player FM or RSS. You can even access the video channel and view the web series. Also, you can listen to the podcast here.





You can also listen directly from the Disrupt Everything podcast series homepage.