I have finished my last experiment, LSD microdosing, for forty days. An experiment that I wanted to start because I was so curious about it. A few months ago, I met several people who practice microdosing, some with LSD and others with Psilocybin. After their testimonies, my desire to explore this field increased.
I have created a kind of report that is divided into seven different parts:
Why this experiment.
The dose.
The analysis, effects, and sensations of each day during the forty days, in writing.
Reflections and conclusions of each day, in video format.
Limitations.
Definitive conclusions.
Considerations.
1. Why I decided to experiment with LSD microdosing
Mainly because I wanted to discover if what the entrepreneurs, businessmen, managers and independent professionals of Silicon Valley, San Francisco, and other areas were saying was right, I wanted to explore what benefits the continued practice of LSD microdosing for 40 days could bring in my life and my profession — going beyond the "normal," because the most extended experiment I've found was just 30 days of microdosing.
My main goal was to find a new hack that would elevate my intellectual, emotional and perhaps spiritual performance even more. And it will also help to find new margins to work with ultra-productivity; focus, state of "flow," self-awareness and perception.
As a secondary objective, I sought to create a better response from my brain to enter more easily into states of "flow" and maximum focus.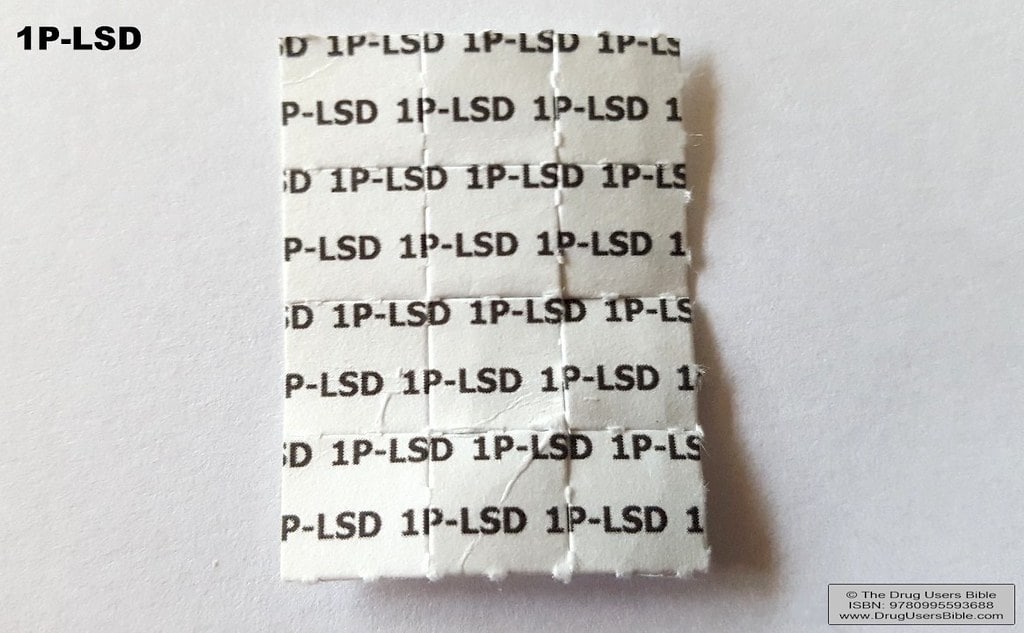 2. The LSD dose
In my case, I worked with a drop of LSD applied to a piece of card. Then (as I explain on day 1), I divided the tab into ten micro-pieces with a scalpel. Below you can see an image of the size of the dose.
3. 40-day analysis: 40 of LSD microdosing
These are the notes from the 40 days, notes that I made at the end of each day.
Saturday 02/06 – Day 1 – LSD microdosing #1: it took me a while to find the perfect moment to start the experiment. I start today because I have the tools to create the microdoses. Components: acid, card to pour it on to, a scalpel to cut each cardboard into ten small pieces. An ideal moment because I'm in Spain and I'll be here for a while until I leave for my next destination, Mexico. Today I felt like a level higher than average; I felt an unusual tingling from the neck. I have felt a little more awake. And I took it at 2 pm at my house in Valencia, my parents and uncles had come to see me.
Sunday 03/06 – Day 2 – LSD Microdosing #2: Took on an empty stomach at ten is at home. Increase in concentration.
Monday 04/06 – Day 3 – LSD Microdosing #3: I'm more awake. It is taken on an empty stomach before leaving for the airport.
Tuesday 05/06 – Day 4: I lost the microdose, and I could not take it.
Wednesday 06/06 – Day 5 – LSD Microdosing #4: taken on an empty stomach at the airport before leaving from Ibiza to Barcelona. No visible effect, maybe because of the party I went to on Monday / Tuesday.
Thursday 07/06 – Day 6 – LSD Microdosing #5: taken on an empty stomach, at 6 pm, on the train, on the way to Madrid. Better reasoning with myself about what was happening in my head. Clutter of nonsense, lost suitcase, no hotels, no plan, etc.
Friday 08/06 – Day 7 – LSD Microdosing #6: fasting at 11 am. In Madrid, very awake and concise meetings. Book signing very relaxed. At the Book Fair, I forget three things at the stand.
Saturday 09/06/18 – Day 8 – LSD Microdosing #7: while fasting at 10 am in Madrid before going out to run. I have noticed more lightness, in addition to more rapidity. I am doing 8.49km at 4.50min / km when I usually do it at 5.15min / km and no notion of fatigue. Also, I have noticed being more awake, but I'm still as clueless as usual. Energy is no different, but a difference in cunning and in seeing opportunities.
Sunday 10/06/18 – Day 9 – LSD Microdosing #8: taken at 8 am before leaving Parla to Madrid and from Madrid to Valencia by train. I was so confused and focused on what I was doing that I mixed up when I was arriving in Valencia when I was leaving Madrid, so I spent an hour working. The rest of the day was regular, but I did notice fatigue for not having slept a lot and accumulating lost hours of sleep. I notice I'm faster in my incentive reactions.
Monday 11/06/18 – Day 10 – LSD Microdosing #9: taken at 7 am after a power yoga class. Today I prepare my 20-day microdosing kit to take to Mexico, Italy, and Spain. At the same time, I continue to focus on everything I do. I remember moments more, interactions with people, their faces, everything I see in documentaries, episodes, or daily videos. What I read, what I work with, what I say and feel sinks in more. It lasts for much longer and with more intensity.
Tuesday 12/06/18 – Day 11 – LSDmMicrodosing #10: taken at 10 am before starting a full day in Puebla. I have noticed being very conscious, very present. Without wandering, without hesitation. Clear and direct, without stopping working for a second. I have felt very focused and had internal conflicts for wasting time.
Wednesday 06/13/18 – Day 12 – Microdosing LSD #11: I feel more integrated with things, more consistent with myself and my environment. I am awake, vital and agile, although I'm tired due to the lack of sleep as I've been working so much, but still focused and connected to everything that happens around me.
Thursday 06/14/18 – Day 13 – Microdosing LSD #12: a day with a lot of awareness, very connected, and working with myself. In alignment with each action, with each word, with each movement, with each decision, thought and behaviour.
Friday 06/15/18 – Day 14 – Microdosing LSD #13: taken at 12:30 am at the house in Tuscany, a bit larger than usual. I accidentally spat it out while talking with Aitor. Sensations of well-being, tranquillity, and connection with myself and the environment. So focused on what I was doing that I didn't even listen to what my friends told me.
Saturday 6/16/18 – Day 15 – Microdosing LSD #14: taken at noon while fasting. I am feeling evasion, focus, and unconcern about anything that is not on my radar. An I feel light. I think agile in my mind more than ever.
Sunday 8/17/18 – Day 16 – Microdosing LSD #15: taken at 10 am and connected all day, very relaxed, but focused on what I was doing even if it was not professional at all. I have been able to flow as well as when I started 14 days ago.
Monday 6/18/18 – Day 17 – Microdosing LSD #16: today, I have not noticed anything else besides being focused. I saw some fatigue and disconnection between 11:30 am and 1 pm.
Tuesday 6/19/18 – Day 18 – Microdosing LSD #17: a day without much difference, where I have been more aware than usual about things that happen in the day, and I don't typically realize. Like moments I'm not on the phone and being aware of the environment, falling into my little world while looking at the monuments, enjoying the landscape of Florence. And I am much more mindful of the reaction to other people and my response to their response.
Wednesday 06/20/18 – Day 19 – Microdosing LSD #18: I have discovered that I have gained an ability to be focused and attentive to what happens around me while doing other things. For example, on the computer, on calls or using my phone. It has been something that I have subtly realized, but when I have paid attention, I'm amazed at the ability I have to perceive my surroundings. It is subtle, but every day it is more noticeable. I can be focused on something, in a state of flow, connecting with myself. It is like perceiving reality better without being distracted.
Thursday 06/21/18 – Day 20 – Microdosing LSD #19: I am in a state of flow ascending every day; I had a descent on day 15, but from day 18, it has been intensifying. I'm in a state of super-perception: the colours, the people, my mood.
Friday 06/22/18 – Day 21 – Microdosing LSD #20: today, I took double the amount; I decided to try two microdoses today to see how it works and what effects it causes. I want to see if the focus and perception increases. I notice a high state of tranquillity and well-being, calm and serenity despite whatever happens.
Saturday 6/23/18 – Day 22 – Microdosing LSD #21: today, I notice more connection with myself when combined with three micro drops and three microdoses of DMT. I see a more significant meditation and more desire to be meditating with myself.
Sunday 6/24/18 – Day 23 – Microdosing LSD #22: a day of more rest, but suddenly I have noticed I have a very active mind, too enthusiastic, then I accelerated and went to a thousand miles per hour. My account is too active today. I have not taken more than this microdose and a double drop from my American friends here in Padova. I have done the work that I usually finish in 4 hours, in 2:25 minutes.
Monday 06/25/18 – Day 24 – Microdosing LSD #23: today has been calmer than yesterday. I notice how I can control my mind better and have more control over it; I am entering a deeper state of consciousness. Also, I feel more connected and more awake.
Tuesday 6/26/18 – Day 25 – Microdosing LSD #24: A day more focused, with higher perception, today I have felt several sensations in my body, perhaps due to a higher dose that I accidentally distributed incorrectly. I felt tingles in my arms and legs. I have also had a variation of colours, nothing urgent, very subtle. Also, I realize that my emotions, feelings, and state is much more sensitive. As well as my senses and perception.
Wednesday 06/27/18 – Day 26 -Microdosing LSD #5: continual flow during the day, zero distractions, zero dizziness, no loss of time. The best day of all in terms of focus and flow.
Thursday 06/28/18 – Day 27 – Microdosing LSD #26: Today, that maximum focus has disappeared; I have felt dizzy at least four times for no apparent reason. Perhaps being on the third day of consecutive fasting plus microdosing has something to do with it. I have noticed less tiredness than usual, despite having slept 4 hours 15 minutes.
Friday 06/29/18 – Day 28 – Microdosing LSD #27: today has been a typical day with the same focus and flow of these past days, nothing more to add.
Saturday 06/30/18 – Day 29 – Microdosing LSD #28: A day of questions, expectation, and surprises in Alcoy when at least 20 people have asked me about the experiment. Then, personally, I felt very focused on the road, so concentrated that I forgot what the co-pilot, my friend Isra Mañes, was talking about. I have been more perceptive without being carried away by surprises.
Sunday 01/07/18 – Day 30 – Microdosing LSD #29: the sensations of today have been of tranquillity, connection, positivism, and euphoria and added to the flow and the focus that I still maintain. It's weird because today's microdose has been smaller than usual. I wonder if the accumulation will have something to do with it.
Monday 02/07/18 – Day 31 – Microdosing LSD #30: today is the first day that I take LSD at night. I have noticed more serenity, more tranquillity, and less mental activity. I have been more deliberate in my reactions, in my words, and in my behavior. And I have taken my day more calmly than usual. I'm taking the microdose at 21:50; we'll see what happens during the night.
Tuesday 07/03/18 – Day 32 – Microdosing LSD #31: I've noticed that my mood has changed in these 32 days. I smile more, I focus more on things, and I always see them from a more positive side than usual. Today in a workshop, I have seen myself more fluid, focused, in a higher state of grace and insight than ever before.
Wednesday 04/07/18 – Day 33 – Microdosing LSD #32: today, I have spent the day with more fatigue than average and in a worse mood due to things that have happened with work. Although I have been calm without kicking off at all, today, I have noticed being calm and asking questions calmly.
On Thursday 05/07/18 – Day 34 – Microdosing LSD #33: I completely adapted to microdoses and noticed slight and subtle contrasts and differences around me. I'm focused, and I appreciate small details such as gestures in people, expressions, movements, the life of things, details that previously went unnoticed. I notice a greater integration with the environment as if it were part of me.
Friday 06/07 – Day 35 – Microdosing LSD #34: We're nearly at the end of the experiment; the fluidity of ideas, creativity, focus, and perception have made me push more these days. Today I have not noticed anything different than in these last 35 days.
Saturday 07/07 – Day 36 – Microdosing LSD #35: day completely connected and self-absorbed, without my telephone, without music, just going with the flow. Today I felt more connection with the environment than ever.
Sunday 08/07 – Day 37 – Microdosing LSD #36: today has been a day of "microdose" everything has increased, perception, focus, disconnection, flow …
Monday 09/07 – day 38 – Microdosing LSD #37: not many changes compared to yesterday because the microdose is a piece smaller than usual, decompensated. As yesterday was a "macrodose." I notice less effect when I'm not fasting. However, I'm still focused, not so much inflow through. My head is still in place and focused, quite organized.
Tuesday 10/07 – Day 39 – Microdosing LSD #38: penultimate day, and the sensations are unbeatable; I notice more awareness, I see I have more control of my thoughts and mind. I have more control over my negative thoughts, and my mood is generally more positive and my mentality, more optimistic than usual. I process things faster and conceptualize them more easily.
Wednesday 11/07 – Day 40 – Microdosing LSD #39: Today, I finish the experiment of 40 days of LSD Microdosing; I can say that I'm enjoying my day to day, work, trips and life, so much more. Small details such as observing silence, focusing on small gestures or movements. People's expressions, the subtleties of the environment. The contrasts of things. The differences between the invisible. Greater creativity, mental agility, and better humour. A very accurate and more developed perception. A maximum focus and ability to generate ideas and take them further than normal. In addition to disconnecting at certain times from everything and being connected with myself and what I'm doing.
4. Reflections and daily conclusions from LSD Microdosing (video)
I have put in one video most of what I have experienced during my 40 days LSD Microdosing experiment:
5. Limitations
Experimenting using the LSD microdose on small pieces of card may not have the same effect as dissolved in water.
There could be variations between the LSD microdoses and the ones of psilocybin. Therefore, the effects could be different or more or less intense.
There is a very narrow margin between the placebo effect and the effector state that microdosing puts you in.
There are days when you hardly feel anything, and there are days when the effect is much more apparent.
In no case did I perform this experiment for reasons of entertainment or leisure. But for professional and almost scientific purposes. I can not say scientific because that is not my field.
6. Conclusions, discoveries and final lessons
I have received literally, hundreds of messages from people interested in the findings and learning of the experiment. More than in any of the 27 experiments I've done to date. On the other hand, I also received messages from people saying things like: "Are you taking a 'trip' every day?. There is something for everyone.
Ten days after finishing the experiment, I continue to "enjoy" the same sensations and improvements I have noticed during the 40 days, especially in terms of focus, flow, and mental clarity. These factors haven't declined, nor have they increased; they have remained.
During the 40 days, I could sleep fewer hours, between 5 and a halt and 6 hours, and I felt just as rested as when I slept 7 or 8 and a half hours.
There has not been a single day in which I have hallucinated or have felt that I could be under the effects of psychedelia.
There is a noticeable difference between taking the dose on an empty stomach and taking it once eaten. The effect is greater than the second.
There is also a difference worth mentioning between taking it in the morning and taking it at night. In the morning, you focus more during the day; taking it at night, you dream deeper, and dreams seem more real.
You don't feel a tornado of productivity and creativity at all. Let's not go crazy. It is something subtle, which previously enhanced and influenced by the excellent work you have done, it can become a considerable advantage. If before there is no such work, it is nothing special. I believe.
The experience of reality was almost the same as before, although the results in my cognitive and perceptual tests were much better.
It has very positively influenced my meditation and the ability to remain present for now.
With LSD Microdosing, what you do is train your mind to think in different ways for a prolonged period. Here is a study that I have found and supports this fact. It is maybe the answer to a better state of "flow," the subtlety in perception and better creativity.
I monitored my work before the experiment, before and after, measuring the following parameters: originality, writing fluency, storytelling, the wealth of resources, humour, maximum focus time, attention to insignificant details, and some other factor as a notion of time. Guess what, everything has improved considerably.
7. Considerations
This is an experiment that I decide to do. Premeditated, thoughtful and calculated. I have not received any external influence, as I am not influenced by anyone other than myself.
Under no circumstances do I base these tests on leisure, entertainment or pleasure. The total opposite, the nature of this experiment is exploratory. I am always looking for the scientific and research angle.
The goal is to discover new improvements in my personal and professional performance. Anything outside that area will be considered improper use of the first approach.
Bonus: find here the first Psilocybin Spanish platform.
Photo credit: Krancien // Dominic Milton.