I finished a new experiment, one that has to do with food and lifestyle. I have called it The Optimal Performance Food Experiment.
Part 1 – Zero
I wanted to test how a body and mind feel when takes zero sugar. Also zero aggressive foods, without salt, without wheat, without dairy, without refined products, zero alcohol (this includes my beloved champagne), zero meat. Zero everything that can be considered minimally aggressive for a prolonged period. What was that change your experience, if you experience at all? And if that also impacted the emotions and the soul. Noticing if your sports performance increased or decreased. The same as the practice of mindfulness, the quality and focus of daily work and the relationship with other people.
The list of "zero's" continues:
No preservatives, no coloring.
Zero fried food, breaded, etc.
It should be noted, that most restrictions are no restrictions for me since they don't affect me. Instead, from time to time I like to break up my diet with these "pleasures." Although in these three months I won't give myself a single treatment or rest from the experiment, because what I'm looking for is optimal performance food.
Goodbye to restaurants
On the other hand, I am in an optimal global state, the result of taking a customized diet, with the foods and superfoods that my body needs for my daily life goals *. Despite that, I am not satisfied with the results I get every time I have to eat or dine out. Even though my choice of food is "balanced." Most of the cases are not like this, when we go out to eat, at least in my case, it's a disorder and a considerable compulsion.
Sure, it's a kind of "free time," but a break that I know do not benefit my body. I knew, and I was sure that I could, through food, find much higher results than the ones I was currently getting, which weren't bad at all. However, I knew that the limit was much further away, I wanted to get to it, whatever the cost.
Optimal performance food
In summary, putting together these two concerns, I conducted a new experiment, 90 days of zero sugar, zero alcohol, zero heavy or inappropriate meals, plus zero meat and zero meals in restaurants. In addition to this, I resumed the most extreme macrobiotic diet from 2012 to today, which my biomedical Juan Rubio made for me. On top of all this, I continued with my weekly fasting day and all the super habits that I carry out throughout the day. I intensified the sport I did and maybe a little in my work too.
I monitored all my activity through a scorecard that I'm sharing below. And I intended to verify what could be achieved with reliable and optimal performance food.
---
Part  2 – 31 days
Thirty-four days were gone since I began my latest food / nutritional experiment: The Optimal Performance Food Experiment.
The overall goal was to see how far the body, mind, physique, and emotions could be improved thanks to the most optimal alimentation performance possible. Restricting the least harmful, including breakfast, lunch or dinner in restaurants, cafes or similar.
Control panel/dashboard
To follow and monitor The Optimal Performance Food Experiment, I created the following dashboard. In it, you can find the parameters that I have used to track the day to day and measure/compare the results versus objectives that I pursue.
In the same control panel, below, you will find the meaning of the types of infusions, breakfasts, and superfoods.
Discoveries
The most surprising and exciting things I have found in these 34 days:
The absolute restriction of sugar in my body made me have more energy than before. Observation: due to my macrobiotic diet, I barely ate sugar. While I didn't eat or drink anything that had sugar or added sugar.
Without even a pinch of salt, the food didn't taste the same, but the body didn't retain even the slightest liquid. Observation: I compensated the sugar restriction with magnesium chloride, zinc, collagen, and potassium.
I slept more deeply and for longer. This seems to be due, according to my biomedical Juan Rubio, to not eating manipulated or transgenic foods, or sweeteners such as sugar or alcohol. At the same time, sleeping more and better helped me make better decisions about my diet and had zero temptations. I didn't feel attracted to any less healthy food that drew me before — not even what was in the image below. The explanation is in this Harvard study.
Every night I lost between 1.1kg and 1.6kg. From day four onward.
I hadn't been in such a good mood for years; I felt so good that I decided to launch myself into the experiment: Smiling at everyone.
Also, I didn't feel hungry or attached to any food.
And I gained awareness about what I eat and how it affected me.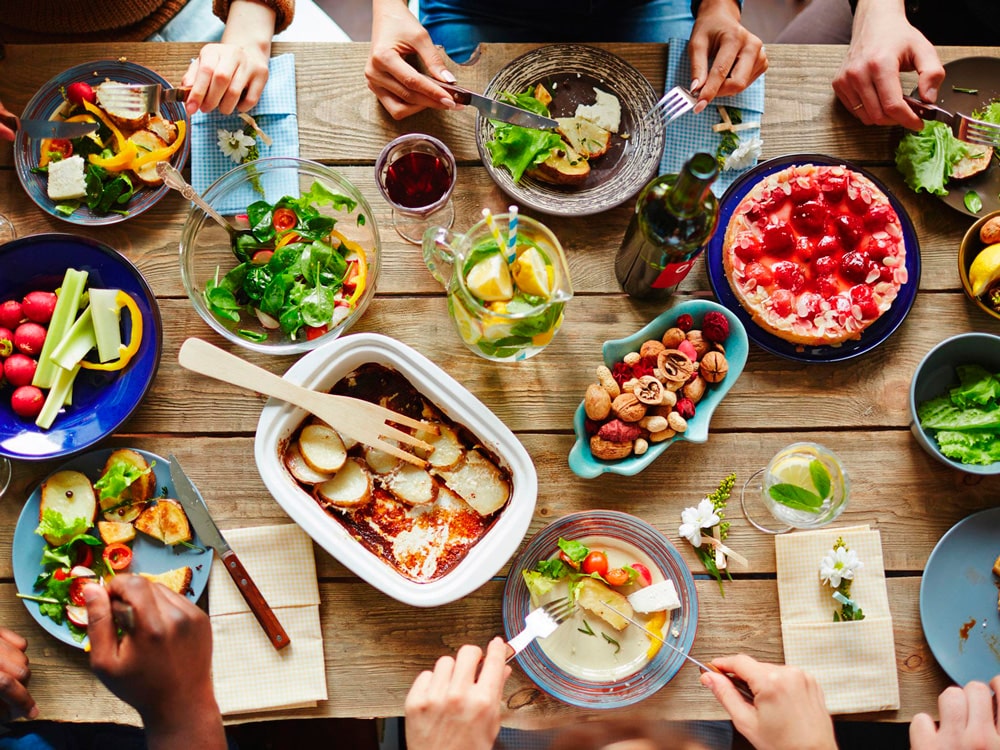 The Optimal Food Experiment results – part 1
These are the most relevant discoveries of part 1…
Better focus, not having so many food distractions I was able to be focused on one thing for more time than usual. My average was around 12 minutes per task; then my standard was increased to 19 minutes per job. I'm talking of a maximum, isolated and radical focus.
Higher productivity. I went from 180h in August and 62% productive work to 127h in September and 75% productive work. Data obtained through Rescue Time
My energy levels increased considerably. I ate only two meals a day, I felt and give off more energy than when I ate five or six meals a day.
On the 27th I went to perform a complete analytical test. I transcribe the results as my biomedical doctor summarized them: "the best analysis I've seen in years Isra. You are well above average in everything, positively speaking, of course. The results can't be attributed 100% to The Optimal Performance Food Experiment. It's been years of work with macrobiotic diets, lifestyle and high performance. I noticed an increase in my ability to make decisions more quickly and directly.
Zero procrastination. Whatever I had to do as the most critical tasks of the day, was the first thing I did when I started working. It had never happened that easy.
Disadvantages
Some contradictory effects:
When I told people about The Optimal Performance Food Experiment, they were inhibited, and they limited themselves to not having lunch or dinner. So I didn't say anything, and I joined without making much noise.
There were few public or private places prepared for this way of feeding.
In the beginning, it required a massive dose of will and discipline.
You go to the bathroom (urinate) about three times more than usual.
Having sporadic date became a little more complicated.
Tricks, shortcuts, and observations
Some aspects to consider:
I didn't eat on airplanes; I chose to fast on the days I had to travel/fly.
While I was in New York and Manhattan, I only ate food that I bought at Whole Foods and Juice Press. There were organic glucose-free bars, added sugar of any kind (syrup, etc.) or salt: Lifebar, Wild Thing and then Raw Bite (they carry sugar).
On the 30th (marked in red on the dashboard) I made the only exception, as on my birthday my grandmother invited me to eat at her house. And I was not willing to say "no" to my
grandparents. Nor to make them change their way of cooking for an experiment. Although we didn't use salt or sunflower oil or eat fried food.
The best snack that worked for me was rice cakes without salt and the organic bars that I mentioned. I eat out with friends, family, and colleagues, I went to the restaurants, and unless they had miso soup I didn't eat anything. I acted usually, and nobody noticed. Everything depends on what your ego wants to show off.
---
Part  3 – 66 days
Passing the two-month mark of The Optimal Performance Food Experiment that I designed. Sixty-six days of searching, testing and analyzing how to find the best possible way to get the most out of food.
Control panel/Dashboard
I continued to complete the "dashboard" every day that passed, including new parameters such as weight, the percentage of fat, water, skeletal muscle and basal metabolic rate (Kcal). The pressure was something that I had been following day and, on a weekly basis, the other four indicators. I was finding much use out of this scorecard, as it offered signs in which I can compare everything that makes up the essential parts of the lifestyle that I am continually redesigning.
Progress
This section is about the progress made in The Optimal Performance Food Experiment:
As the days went by, the body was more balanced than ever — both in physiological and psychological functions. No discomfort at a physical level, there were no problems with the stomach, kidneys, bladder or bowel. All organs worked, and so do their functions. More agility at all times.
Mental clarity was the order of the day. Since the experiment began, the tranquility, perspective, and transparency at the time of reflecting, thinking and executing were increasing.
You can differentiate when you wanted to eat and when it's whim, boredom, procrastination or craving. Fundamentally because by reducing both the variety of foods and being very austere with pleasures, you didn't have much choice. Then, your mind begins to process the idea of eating out of necessity rather than desire. Which is one of the objectives I pursued?
At a productivity level, as you can see on the dashboard, I reduced working hours, while I increased the number of tasks/responsibilities — all of this to see if I reach exhaustion. So far it didn't happen. I finished my daily work, no matter how hard I had to push myself. 97% of the time I finish it, and I still had a couple of hours to spare.
On a more physical level, sports performance. The same experiment managed to take enough motivation and determination to prepare two challenges for the next year. This at the same time made me start training. Thus increasing the hours of sport in the last two weeks.
My weight currently ranged between 66 and 68 kilograms. I had never reached this weight feeling so good on both the outside and inside.
Discoveries
This section is about anything that I have found in phase 2 of the experiment that has caught my attention:
The overloads and not in my neck gradually decreased. According to one of my physiotherapists, this was due to the absorption of energy by optimal foods that my body needed. The body didn't have to work that much, and it was much more relaxed.
The lumbar pains that I had since April have also disappeared. Mind you; this was not only due to the food, which helped decrease them and I still don't know why, but also to the daily practice on the inversion table that I bought and the psychosomatic effects uncovered in the Vipassana meditation retreat. Not suitable for skeptics, yes I know, but I have proven it myself.
On a physical level, I speak of pain, discomfort or the slightest possible discomfort; I can say that I felt zero, I repeat zero — lightness, elasticity, flexibility, control over the body. And I felt all the sensations, you know when something is not going well at all, but you know when you are 100%. I was back then. So much that, as I said, I wanted to test the results of this experiment and others that preceded it.
The emotional level increased, in a positive way, considerably. This was undoubtedly one of the most potent discoveries of this experiment. It was right or seemed real that they say that heavy, chemical and manipulated food dirties not only the body, but also the emotions, the intellect, and the spirit. Sentiments too, as I said in the first 34 days because my mood improved more than usual. Intellectually also, because the ability to memorize, create, think and develop was faster and more decisive. Spiritually because it gave me more tranquility, it didn't overwhelm or crave me
I discovered that wheat pasta was one of the most harmful foods I could eat. I felt a vital stomach inflammation and at the same time decreased energy.
Within sixty-six days, almost irremediably, I designed a new almost standard feeding plan. One that gave me everything I needed, and that sometimes included one or two meals a day. We don't need more.
Within ten days of the experiment, I learned how much food distracts us. I learned that if you don't think about it, you have no appetite.
Observations
I did Vipassana while experimenting. There have not been many difficulties since the food in the retreat is very similar. I have only had to stay away from things like wheat, dairy, sugar, salt, sauces and little more.
In those 66 days, I went to a restaurant once — a macrobiotic restaurant.
I continued with the weekly fast day even in the Vipassana retreat.
Conclusion about Optimal Nutrition and Optimal Performance Food
The most remarkable and main conclusion is that until today I didn't find a technique (or experiment) that manages to align and tune your whole being as effective as with this one. It's an inexhaustible source of energy, at all levels. Or at least that's what I've felt. Not only was I turning food into my best gasoline, but I was learning the formula with the right kind, quantity, and quality to achieve greater personal and professional efficiency. I seriously considered adopting the preliminary nutrition plan as my standard plan once the ninety-day experimental period ended.
Up to here are the most remarkable parts I can remember. Any questions or suggestions?
---
Part 4 – 99 days (End of the experiment)
On Saturday morning, I finished the Optimal Performance Food Experiment. It consisted of 99 days experimenting and looking for the best way to optimize my body, mind, physical and spirit through the best, most optimal and indicated foods.
It has been 99 days without sugar, salt, fried foods, alcohol — no eating in restaurants, no partying, no meat and no fish. I haven't been a person inclined to any of these elements, I've followed a macrobiotic diet since May 2012, and I have been improving little things since then. However, it was not until this experiment that I had not noticed such an incremental improvement because of the food I was eating.
Precedents and archive
It is fair to say that before arriving here I have followed previous feeding experiments that have helped me to have a better understanding of my body and diet.
You can find in the dashboard the following parameters: hours worked, rest, weight, type of food, intakes, anomalies, observations and more.
The Optimal Performance Food Experiment: final results
Instead of a written report, I have recorded a video that contains the most essential and meaningful conclusions and findings of the experiment.
Experiments are the best way I know to improve every day. There is always something to try.
If after reading all this, you have any doubt, question or comment, do not hesitate to ask me. I will respond.