We continue with the deep dive in into the Zen world and the ancient wisdom applied to current times. Today a significant disruptor, one of the renowed references of Zen today, Zen Master Soeng Hyang (Barbara Rhodes). I came to her thanks to the recommendation of Zen Master Dae Bong Sunim.
"Listening is the number one tool that we must develop until death" – Soeng Hyang Zen Master
Soeng Hyang is the Zen Master of the Kwan Um Zen School. Barbara is one of the great Master Seung Sahn's first American women, with whom she began to study in 1972. Later, she received Inka (permission to teach) in 1977, and later, in 1992, she received Dharma transmission by himself. Seung Sahn, which became a Zen Master. In 1969 she became a nun, thus possessing a long and stable career in hospice care. She helped found the Providence Zen Center (Rhode Island), where she lived for 17 years, holding many administrative jobs.
"Everyone needs a healthy ego"
Now, Soeng Hyang is developing the work of spreading Kwan Um knowledge through digital media. She is dedicated to providing Zen teachings to practitioners around the world. In her family life, she has a daughter and lives with Mary in California.
"From the age of 4, I was always wondering 'What is that?'"
Zen Master Soeng Hyang
Barbara or Soeng Hyang is a Zen master herself, who has managed to combine this ancient and so practical philosophy with current times, online training, and so much lack of attention generated by so many distractions. It is a privilege for me to count on a Zen teacher with the background and worldwide recognition that this wise woman possesses.
"You do not grow spiritually, you return home to your true self"
Disrupt Everything Podcast #147 – Zen Master Soeng Hyang
"I never saw Buddha until I tried LSD for the first time."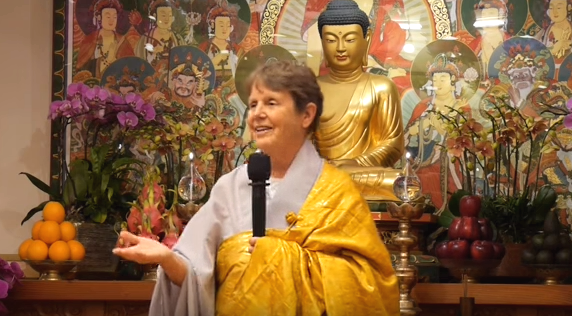 In this new episode, we interview Zen Master Soeng Hyang, one of the top Zen spiritual leaders of the Kwan Um School. In the podcast, you will find a conversation that revolves around the practical wisdom and action that Zen philosophy represents today. We also discuss Koans' tremendous impact and the different techniques used in Zen to empty the mind, fill the spirit, and connect with who we are here and now.
"Coca Cola would be a perfect mantra; it doesn't matter, just shift your thoughts" – Zen Master Soeng Hyang.
Listen here:
"What is this?"
Index of contents
Timeline of highlights.
Experience with psychedelics.
Different types of Koans, how they work and how to apply them on a day-to-day basis.
The heart of the Kwan Um teaching.
Concepts and lessons to keep in mind to live with serenity and virtue.
The Heart Sutra and its fundamental role in life and Zen.
The "don't know" problem.
The power of prostrations.
The impact of the chants.
How to use Zen to lead a better life.
Rituals and habits of a Zen teacher.
Integration of Zen in real life, at work and with the family.
Meditate correctly.
Anecdotes from a Zen Master.
What is the meaning?
The world now is there any way to fix it?
Unsolicited advice.
"Just mark the moment before you think – that's the primary point" – Zen Master Soeng Hyang.
Podcast Notes and Resources:
"Interrupt your" I "," my "," I ", it annoys your ego"
---
Listen, download, subscribe
Listen and subscribe to the podcast via iTunes, Spotify, Google Play, Ivoox, Castbox FM, Player FM or RSS. You can even access the video channel and view the web series… Also, you can listen to the podcast here.





You can also listen directly from the Disrupt Everything podcast series homepage.
Photo credit: Kwan Um Europe.